Holiday Fundraiser -
Knights Sale of
Petit Jean Meat Products
To place orders or request more information, call:

Mike Welsh
915-8344
Ed Doyle
922-5771
Bill Nosek
915-9000
Tom Yerina
922-3062
Milt Spaniel
915-0148
Bill Roe
915-9501
Continuing its excellent relationship with Petit Jean in Morrilton, well known in Arkansas and beyond for the quality of its meat products, the Council has launched a fundraiser to benefit deserving families with students in either Mountain Pine Schools or the Alternative Learning Environment (ALE) program. It has chosen the holidays, because it is a season for: 1) festivities with good food and refreshments; and, 2) charitable giving to families in need as a priority.
Click the following links to view or print: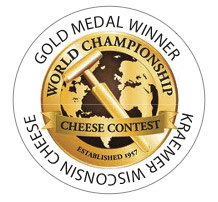 Orders can now be placed for those wonderful products from Kraemer's in Wisconsin. Order forms can be located in the narthex. You can also view and print the
online order form
. We will have the first delivery of products to the Village sometime in November (date to be determined). We will also continue to take orders through the winter months, and shipping will occur when we have enough ordered product for the Kraemer Group to make a run from Wisconsin to the Village.
We will maintain some products on hand for instant sales, and that list of products will also be on the Knights of Columbus website. See "Kraemer's Cheese On Hand" in the vertical menu on the left. Lastly, we will sell gift boxes for the holidays.
Additional information can be obtained from the sales staff: John Meyers at 915-0746 or Al Bigischer at 209-5231.
On Friday, October 17, Council 10208 hosted its annual Fall Fest dinner in the lower hall at Sacred Heart of Jesus Church.
Guests were welcomed to the lower hall which was decorated in a fall theme atmosphere. This event was attended by 204 hungry diners and toe tappers. An auction was conducted prior to the meal by sir knight and emcee, Bill Nosek with proceeds going to the 2014 Campaign for People with Intellectual Disabilities.
The meal consisted of salad, Petit Jean ham, sweet potatoes with cinnamon butter, green beans and marble rye bread. A delicious array of desserts was prepared by the Ladies of Sacred Heart.
Knight Steve Fetcko helped coordinate the concert played by The Village Big Band featuring vocalist Maureen Morgan.
The approximately $2,000 profit from this event will be used to support the Council's charities and causes.
The posters and fliers were prepared by Carolyn Bodensteiner. Ticket Printing was done by Scott Krantz and the ticket sellers included Bob Bowman, Jim Elder, Colin Morgan, Dave Witchger, Fred Jungers, Mike Welsh, Bill Nosek, Jim Passe, and Tom DeVito. Hall set-up was accomplished by Terry & JoAnne O'Brien, Lori Bussone, Jack & Pat Widlowski, Lee Kane, and Ruth Wolfer.
The desserts were prepared for serving by Pat Widlowski, Janet Runshang, Mary Anne Honzik, Becky Roe, and Kathleen Nosek with her houseguest, Ione.
The kitchen crew included: Bill George, Ed Voss, Ron Wilging, John Lucas, Tony Raymond, Chuck Ralph, Rick Hiemenz, Dave Struthers, Dave Salmen, Bill Taylor, and Jack Widlowski. The bar was managed by Bob Rodgers and Ron Cuba.
Pictured (l-r): Bob Lennen, Kenneth Silvers, Tom Hubert, and William Butler.
On Sunday afternoon in the upper hall at Sacred Heart of Jesus Church, four candidates were exemplified by the Council's ceremonial team. The new members are William Butler, Thomas Hubert, Bob Lennen, and Kenneth Silvers.
The team members who did their typical great performance were Bill Patterson, Gerald Krawczynski, Tom Yerina (captain), Mike Frantz, Bill Janser, Mike Kerwin, and Buddy Dixon.
Observers to welcome the strangers included John Bodensteiner, Bob Honzik, John Sagan, Bill Taylor, Tom Thornton, Gordon Wilson, and Gary Wolfer.
With these four new members, the Council now has thirteen toward its goal of nineteen for the 2014-2015 fraternal year, a challenge it hopes to meet in December.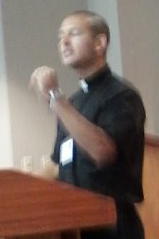 Father Mauricio Carrasco, Retreat Director
The Arkansas Knights of Columbus State Council sponsors two retreats at Subiaco each fraternal year - usually the first weekends in September and February. They are designed for knights and their wives. Council 10208 is always very well represented, often with about 50% of the retreatants (21 of 52 this fall).
The Retreat Director was Father Mauricio Corrasco, who celebrated his second anniversary as a priest on May 26. He is serving at St. Theresa's Parish in Little Rock.
One of the retreatants was Grand Knight Bob Honzik with his wife Mary Anne, and he gives this summary:
Father Mauricio's subject was "The Cross." There is no reconciliation without the Cross. He talked about the Good Samaritan and how he poured oil and wine over the man's wounds and bandaged them. He then lifted him from the side of the road (ditch) and took him to an inn and paid the inn keeper to look after him. The ditch is sin, which we all fall into. He brought up different ditches including: boredom; anger; narcissism; skepticism; superficiality; and, despair. Father Mauricio is a brother knight, so he brought charity into his presentations.

We had vespers two nights with the monks, and they joined us during our Saturday evening social time.
Attendees from Council 10208 included: Jim and Pat Anderson; Jaime and Susie Cardenas; Ed and Pat Cudworth; Ed and Paula Doyle: Marshall and Evelyn Garrison; Bill and Valerie Hartnett; Bob and Anne Honzik; Dc Larry and Jan Lipsmeyer; Art and Marna Morissette; Ralph and Marilyn Stiefvater; and, Mike Welsh.
Event Coordinator Hans Purkott (l) and Fr. Elser
The sixth annual golf event to benefit St John's Catholic School in Hot Springs was the most profitable one to date, as it raised over $9,500, primarily due to the fact that there were 35 teams with 140 golfers, including five women's teams, who braved the hot and humid weather. The Knights of Columbus Councils in Hot Springs and in Hot Springs Village along with Sacred Heart of Jesus Church sponsored the event. It was chaired by Hans Purkott once again, with very capable assistance from Ralph Melenson, who successfully contacted many of the businesses for contributions.
Played at Magellan, this is the first time that the tourney was held on an HSV course. It had a 9:30am shotgun start, and some foursomes finished in 4 1/2 hours, with all completing the 18 holes in less than five.
Chuck Wagon Joe and his crew prepared an excellent BBQ lunch that was served at the Balboa pavilion. In another change this year, $20 lunch tickets were available to spouses and friends who did not play golf – 38 were purchased.
The event grossed over $19,000, and there was another $6,500 in gift certificates for prizes. St. Vincent Hospital was a Corporate donor ($1,500); David Meyers and Sam's Club were Diamond donors ($1,000); DeGray State park Golf Course, Diamante Golf Club, Hot Springs Country Club, and Pleasant Valley Country Club were Gold sponsors ($500-$999); twenty five businesses were Silver sponsors ($300); sixteen businesses and individuals were Bronze sponsors ($100); and, there were seven Friends of Knights (less than $100).
There were eight young men from the KC Squires in Hot Springs sold drives for $20-$30 per team on a par 5 hole, and they collected $800 for a suicide prevention program. A casino hole raised $380 to support Squire programs.
Council 10208 was well represented by knights and their spouses who were among the more than 600 people who attended the annual Taste of Faith fundraiser in support of seminarians held August 9 at the Marriott Hotel in Little Rock. The record crowd donated about $253,500, according to an August 16 Arkansas Catholic article.

Seated among the attendees, the seminarians were introduced individually by Monsignor Scott Friend wino gave a brief bio of each. Parents in attendance were also introduced. A 12-member seminarian band led by Patrick Friend entertained the crowd with songs from the Beatles and The Champs with a smaller group playing for another selection song in French. Guillermo Caballero, the seminarian adopted by Sacred Heart of Jesus parish and Council 10208, displayed his skills on the violin for two of the songs. Stephen Hart gave an inspirational and emotional talk about his journey in following God's call. Stephenwhose older brother was recently ordained, credited his parents for their support and prayers.

Bob Honzik and Anne Dierks recruited the participants and arranged for their seating with hosts for each table. In addition to Monsignor Bernard Malone and Father Bill Elser, the knight couples included: Jim and Pat Anderson, John and Carolyn Bodensteiner (hosts), Ron amd Fran Boudreaux, Tony and Marilyn Cifelli, Ron and Pat Cuba, Don and Anne Dierks (hosts), Ed and Paula Doyle, Ike and Sonya Eisenhauer (hosts), Marshall and Evelyn Garrison, Bob and Mary Anne Honzik (hosts), Gerald and Anne Krawczynski, Ed and Mary Ann Miller, Bill and Kathleen Nosek, Mike and Susan Semmler, David and Kathleen Witchger, Gary and Ruth Wolfer, and Tom and Martha Yerina. Joan Smith and Rick and Kim Clement also attended.

There are currently 44 seminarians studying for the the priesthood with costs ranging from $30,000 - $34,000 per seminarian, depending where they are studying and other variables including housing, food and insurance. The bottom line is that the current annual cost for the Diocese of Little Rock to support its group of seminarians is about $2 million.


On July 17, the Knights of Columbus Council hosted its third annual fundraiser for the Little Rock Diocese's Seminarian House of Formation, which serves primarily as a home for those discerning a vocation to the priesthood. The event was held at the Sacred Heart of Jesus Catholic Church. Grand Knight Bob Honzik chaired the planning for the fundraiser and served as emcee for the program.
The dinner was a sellout with 286 people in attendance. Over $15,600 was raised from ticket sales and donations from the diners as well as from other parishioners and knights. Along with the $35,000 from the previous two fundraisers, the Council has now raised more than $50,000 for the House of Formation.
Pictured (l-r) following the presentation of the check: Father Bill Elser, Monsignor Scott Friend, and Bishop Anthony Taylor.
Special guests included: The Most Reverend Anthony Taylor, Bishop of the Diocese of Little Rock; Monsignor Scott Friend, Diocesan Vicar General and Vocation Director; Father Tony Robbins, Pastor of congregations in Camden and Magnolia; Father Bill Elser; and, seminarians Alex Booth, Guillermo Caballero, Omar Galvan, Ben Riley, Nelson Rubio, and Emmanuel Torres, representing the 43 seminarians currently in the program. This number represents one of the best ratios of seminarians per Catholic of any diocese in the country, easily in the top ten.
Chef Danny Celestin prepared the meal with assistance from his crew of knights. Following a crab cake appetizer, the knight wait staff led by Ed Cudworth served the menu of catfish, shrimp, clam strips, and stuffed crab with Cole slaw, baked potatoes, and hush puppies. The dessert was Father Bill's famous homemade ice cream.
Monsignor Friend spoke about the need for expansion of the House of Formation into adjacent facilities no longer used by Our Lady of Good Counsel parish to accommodate apartments for the bishop and the vocations director, additional rooms for visiting priests and for seminarians needing housing between their assignments, as well as for distance learning classrooms and a workout facility.
At the close of the program, a Spiritual Bouquet of prayers by the knights was given to Monsignor Friend in which they "asked God to give him the strength to continue the successful recruitment, placement, and educational funding of diocesan seminarians."
Coordinator Mike Frantz with a local firefighter watching the action.
The annual Camp for the Blind was held July 6-13. Under the leadership of Mike Frantz, the knights once again assumed primary responsibilty for assisting with the Camp's bowling portion held at Fiesta Bowl.
There were 17 Knights, 11 spouses, and five grandchildren helping 78 campers this year for a total of 158 volunteer hours. Coordinator Mike Frantz said, "There were only a few minor glitches to take care of this time, and I think everyone had a really good time."
Knights and their families included: Larry Bauer; John Bodensteiner; Bob Bowman; Tony and Marilyn Cifelli with granddaughter Madison and her friend Lauren Kahl; Mike and Chris Frantz; Chris Gleason; Ed Harrigan; Bob and Mary Anne Honzik; Gerald Krawczynski; Chuck and Elaine MacDonald; Rick Meyers; Raul Manarque; Art and Marna Morissette; Bill Nosek with granddaughters Natalie and Olivia Cook; Del and Agnes Scheid; Dennis and Joan Sisson with grandson Will Pohlmann; Milt Spaniel; and, Terry Theisen.
View pictures in
Photos.
Dick Breckon (l) and Bob Honzik

The June 3 meeting featured the installation of new officers. Wives were invited to attend. The evening began with the rosary at 5:00pm followed by a social and an $8 per plate served dinner around 5:45 which included salad, dinner rolls, baked chicken, mashed potatoes, green beans and dessert.

Council officers installed with Grand Knight Bob Honzik by District 10 Deputy Roy Anderle from Mena included: Deputy Grand Knight Gary Wolfer; Chaplain Father Elser; Chancellor Steve Fetcko; Recorder Rick Meyers; Financial Secretary Gerald Krawczynski; Treasurer Ed Doyle; Lecturer John Meyers; Advocate Mike Frantz; Warden Chuck MacDonald; Inside Guard Scott Krantz; Outside Guard Gordon Wilson; 3rd Year Trustee Dave Johnston; 2nd Year Trustee Bill Roe; and, 1st Year Trustee Dick Breckon.

The following directors appointed for the fraternal year were announced by Bob Honzik: Program Director Tony Cifelli; Church Director Mike Welsh; Community Director Milt Spaniel; Council Director Jack Widlowski; Pro-Life Director Jim Goodson; Family Director Steve Schramer; Youth Director Fred Jungers; and, Communications Director John Bodensteiner with Meeting Publicist Art Morissette and Web Developer Mike Miller.

Pictured (l-r) are winning knights Bill Patterson, Scott Krantz, and Ed Miller.
The Fourth Annual Arkansas Knights of Columbus Cup Golf Tournament was held May 24 at the Morrilton Country Club. This tournament is a knights only event and was hosted by Council 5209 in Morrilton. It is a three-man scramble with two teams per hole.
Initiated by the Hot Springs Council in 2011, this event is now held every year to benefit the Diocese of Little Rock's
Arkansas Knights of Columbus Cup
Seminarian Fund. This year $1,300 was raised for the fund. The diocese currently has 42 seminarians studying for the priesthood.
Five councils participated with four teams from Hot Springs Village, three from Hot Springs, two from St Vincent, and one each from Fort Smith and Morrilton. The top three teams are as follows:
First
- Council 10208 from Hot Springs Village with knights Scott Krantz, Ed Miller, and Bill Patterson;
Second
- Council 996 from Fort Smith with knights Jack Danclu, Wayland Horn, and Art Rideout; and,
Third
-Council 6419 from Hot Springs with knights Joe Dierks, Larry Stidman, and Cooper White.
The other three teams from Council 10208 included: Team 2 - Dan Murphy, Gary Wolfer, and Tom Donnelly;Team 3 - Ralph Melenson, Phil Stephenson, and Jack Timmons; and Team 4 - Bob Bowman, Dick Palinko, and Jerry Bertrand.
Next year, the event will be held in Hot Springs Village, hosted by the winning Daniel Patrick Sullivan Council 10208.